Multi-laser system that can perform 68 types different treatments in one machine
Harmony XL PRO is a powerful and versatile treatment solution for a wide range of aesthetic needs.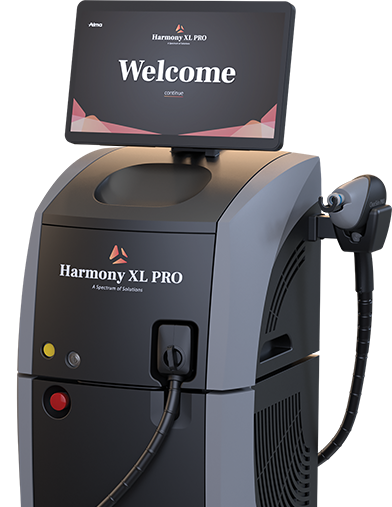 Aren't you having any troubles as below?
The needs of the market are changing rapidly, so we can't keep up with the trend unless we purchase the new machine…
Costly for maintaining even only multiple machines…
We've already installed many machines so the vacant space in the treatment room is becoming too small to do the others…
We've installed a machine, but it is getting out of step with the industry's trend so it is hardly used due to low demand…
A multi-functional machine
which can be used with any lasers and IPL in one machine
3 Advantages of Harmony XL Pro
Merit1
68 types different treatments are possible by just adding one additional hand-piece
(FDA certified)
Harmony XL Pro can irradiate approx. 20 types different lasers and lights (IPL) with just one machine.
68 types different treatments can be performed by equipping hand-piece of lasers and lights (IPL) according to each condition.
Thanks to the availability to perform various treatments just by changing the hand-piece, you can increase the treatments or procedures menu with little investment and low risk.
Merit2
Performance as good as dedicated equipment and easy and safe operativity
It provides the performance and compares advantageously to the other dedicated equipment. It has been also certified by the FDA as a safe medical device.
At the same time, it realizes easy operativity even for doctors who has had little experience for using laser.
Merit3
Maintenance contract is available only for one machine Economical after-sale maintenance also available
After-sales maintenance should be also important for such sensitive medical machines.
If multiple machines are installed to perform multiple treatments and procedures, maintenance contracts are required per each machine, which can be costly. On the other hand, Harmony XL Pro can perform multiple treatments and procedures only with 1 machine so that only one maintenance contract can be sufficient, which makes you enjoy much economical solution.

Q-Switched Nd:YAG
First ever in the world, fractionalized Q-Switched Nd: YAG laser.
Two types of effects can be expected: "Photo acoustic effect" that causes minute physical damage to collagen and "Thermal effect" that causes thermal denaturation. Thanks to the effects, the remodeling of dermal collagen is facilitated.
Indications
Tattoos
Chloasma
Wrinkles
Pigmented spots on skin surface
Sagging
Vascular lesions, etc.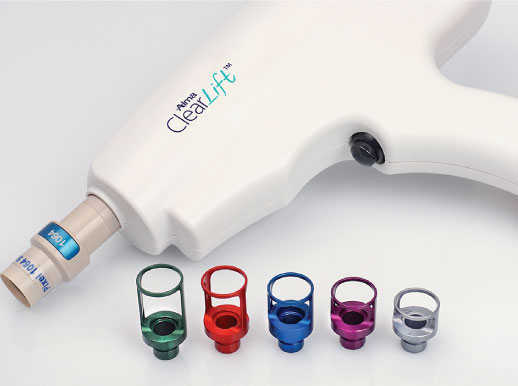 Respondable to various treatments by changing the hand-piece

Typical treatment menu

Skin Tightening

Skin tightening facilitates moistures in skin to generate heat in the dermis using light rays whose wavelength is 1,300nm, which facilitates contraction and production of collagen. Consequently, it is possible to realize both youthful, firm skin and clean, toned face line simultaneously. Furthermore, thanks to the low absorption rate of melanin, risk of pigmentation can be little and safety of the procedure can be enhanced.
Infrared light used

NIR
Skin Remodeling
First ever concepted procedure in the world for wrinkle treatment, which is the combination of "shock wave" and "heat" (that are two different effects) works on the cause of wrinkle. The irradiation of high-energy laser whose time is very short for 1/50,000,000 seconds causes the shock wave and heat in the skin (dermis). Then, the small damage to the fibroblasts and the contraction of collagen make the collagen regenerated, which you can expect increase of the volume in the dermis and reduction of wrinkles.
Laser used: Q-switched Nd

Q-switched Nd:YAG (Fractional)
Pigmented Lesions
A treatment to irradiate skin with a laser that is easily absorbed by pigmented lesions for short time and shatter the melanin that could be the causes pigmented lesions. The very short time irradiation for 1/50,000,000 seconds (20nsec) with high-energy laser shatters the accumulated melanin apart while minimizing the damage to normal tissues. Then, clear and beautiful skin is realized by the subsequent metabolism,
Laser used

Q-Switched Nd:YAG
Pores
Skin type improvement
Skin Resurfacing
Punctate holes only in shallow layers of skin are made by irradiation with segmented laser, which facilitates turnover of the skin surface and regeneration of the dermis. Consequently, finely and smoothly textured skin without bumps and dips is brought about.
Laser used

Er:YAG
Hair Removal
Painless medical hair removal using thermal storage. It accumulates heat under skin and enforces damages to the hair follicles and bulges by irradiating with low energy continuously. A hair removal method that defies the common wisdom of the way, which can reduce the pain and allow the procedure even for sunburnt body.
IPL used

SHR
Pores
Skin type Improvement
Skin Rejuvenation
A comprehensive skin rejuvenation treatment that works on all skin problems such as wrinkles, fine lines, pores, dullness, redness, and loss of the elasticity. Lights whose wavelength range can be effective skin rejuvenation is irradiated. That works on melanin and hemoglobin, which cause uneven skin tone and facilitates production of collagen, which controls firmness and elasticity of the skin. This treatment fulfills improvement of blemishes and redness as well as skin elasticity simultaneously, and realizes the glowing complexion.
Laser used

SR、DyeSR
Respondable to the many other many procedures Variety of menus can be offered depending on the hand-piece you are installing.
Please contact us
for inquiries and introduction of Alma Lasers products.
CONTACT US