This is just almost a surgery without any operations
Accent Prime is Alma Laser's most advanced workstation for skin tightening,
body contouring and aesthetic enhancement.
Aren't you having any troubles as below?
Merit1Just a little bit different from any other overseas machines
Realize partial slimming that fits to the needs of Asian women
The customer segment for purposing slimming
is quite different between the Asian market and the other global market.
The slimming treatments such as Cryotherapy and low-energy laser to realize slimming whole body are popular in the global market.
However, unlike the global market, the needs of partial slimming such "A little bit less, I want to slim only my upper arms" is very high by women with usual body shapes in the Asian market. While the customers whose BMI is more than 25 (so-called obese) account for 60% or over in the global slimming treatment market, only 25% of ones whose BMI are such high in the Asian market.

As a matter of fact, the machines which is targeting the global market cannot respond to the needs of the Asians. Accent Prime can exert the effective in addressing the "Partial slimming" needs of the Asian customers segment whose BMI is from 18.5 to less than 30, which accounts for nearly 90% of Asians.
It provides the highly satisfactory machine treatment.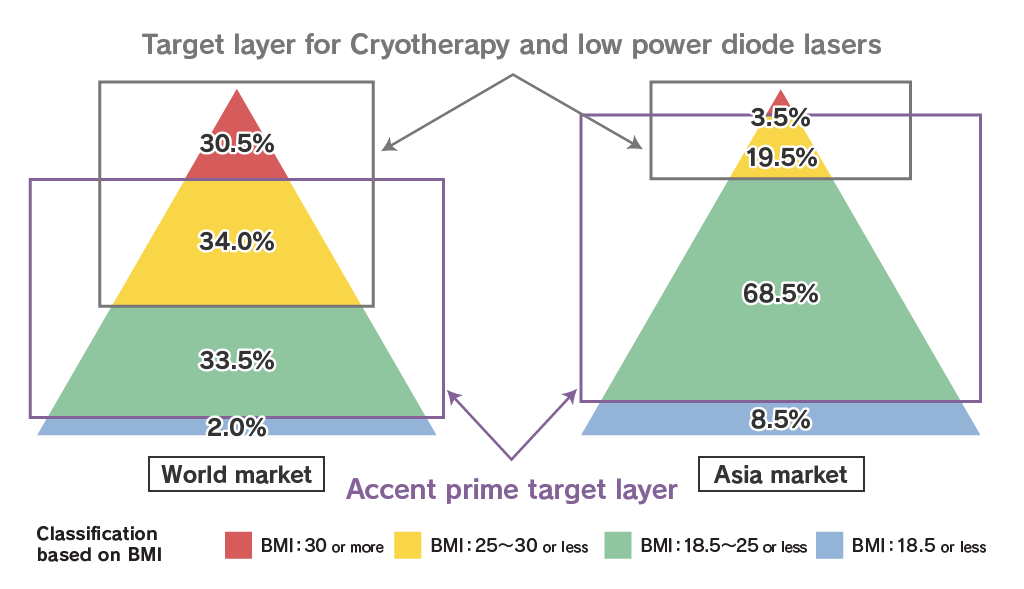 Accent Prime can respond
to the needs of approx.
90% of Asian women.
Merit2The patient is not satisfied only with her weight loss.
Only this machine can realize the downsizing and care for sagging skin and cellulite simultaneously!
Patient's desire to be slimming=Fat got lost
Lots of complaint Asians
who want to slime down beautifully have as below.
I got slimmed, though.
My skin sagged…
I got slimmed, though.
Cellulites became more prominent…
I got slimmed, though.
The treated area got bumpy as well…
Accent Prime can realize your downsizing
as well as respond to tightening your skin,
treating sagging and cellulite at once only with this one machine!
Multiple machines are required to respond to various needs...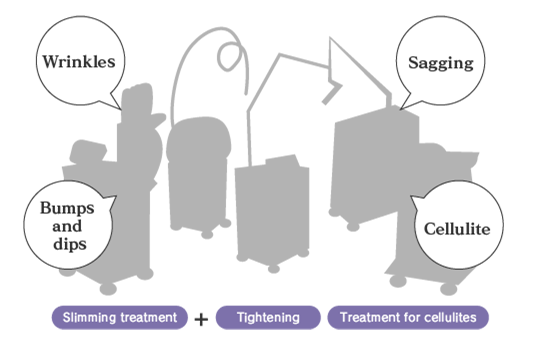 Only one Accent Prime can help you slim keeping your skin beautiful!
Merit3Don't you think this is our limit to accept patients because the doctors are too busy to treat them?
Accent Accent Prime can earn profit even by staffs who don't have medical licenses!
Accent Prime can help
you make another
prop to earn profit even by staffs who don't have medical licenses.
Accent Prime is a highly safe machine that can be used by nurses and estheticians other than doctors. Therefore, you can expect the increase of your profit without taking up then work times of doctors.

Although someone may worry about the thing, "It' not different from esthetic clinic. Is it?", when we say that even estheticians can handle the machine. Don't worry about that because we have been sure to realize the compatibility between the result and safety as a medical device sold exclusively to clinics. Please be assured to use the machine anyway.


*The purchases shall be exclusive to be medical settings any physicians are permanently stationed in.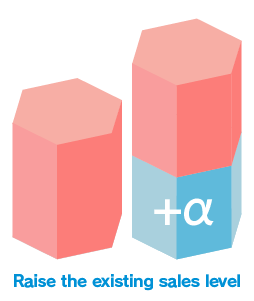 "Tenor", the standard slimming machine,
has evolved to this level Accent series
which realizes the compatibility between the result and safety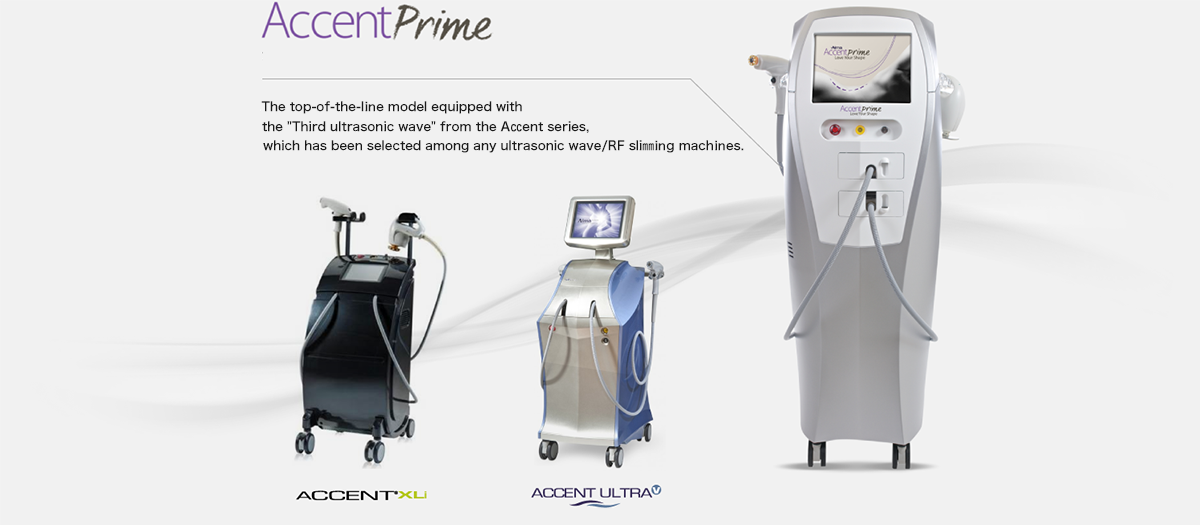 As "The third ultrasonic wave" following to the pressure wave and shear wave,

What is "Ultra-resonant wave"?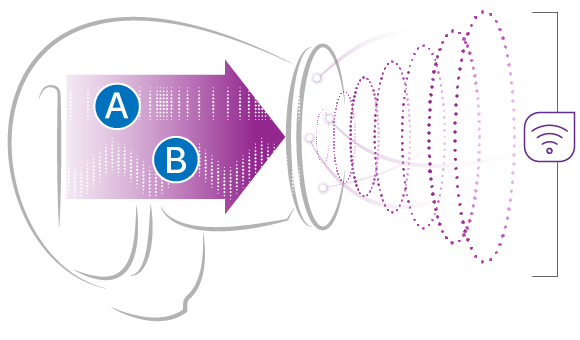 A.Pressure wave (longitudinal wave)

Longitudinal ultrasonic wave resonates parallelly to the wave direction and propagates while causing its density change.
Cavitation phenomenon is induced as result of pressurization and decompression that are generated in the propagation and then impulse wave and heat are generated eventually. Although they have powerful energies, they are not selective.
B.Shear wave (transverse wave)

Cavitation phenomenon is hard to be induced because the propagation is carried out by a solid medium. Also, only large target can be resonated selectively. This technology has been applied to the ultrasonic wave hand-piece of Accent series until today.
Ultra-resonant wave(guided wave)

Ultra-resonant wave is the "3rd ultrasonic wave" following to longitudinal and transverse waves, and resonated from a sonotrode (oscillator) whose insonification diameter is large sized. It can insonify powerful energy such as pressurization and decompression of longitudinal wave getting along with oscillation of transverse wave. While reducing risk of the cavitation, it can resonate target area heavily heating the area up, The insonified ultrasonic wave energy propagates concentrically (ripply) and spreads evenly over the entire treatment area, and then reaches deep into skin.
3 things realized by the ultra-resonant wave
Propagation to wide areas
Resonance while heating up
Much better safe treatment
Highly expandable hand-piece method
8 types of hand-piece can be replaced,
which can respond to needs of various customers

Ultrasonic wave and RF (radio frequency) realize painless downsizing
and tightening without damaging skin.
The new ultrasonic wave module "Ultra-speed" and the suction-cooling RF module can be built in now,
which can expand the combination range of the treatment.
Alma Wave technology at 40.68MHz
Dielectric heating

Some of ordinary slimming machines transfer heat from surface of skin to the depth. On the other hand, the machines of Accent series directly heats the target area with the extremely high frequency for 40.68MHz of RF "Alma Wave". The energy of Alma Wave propagates directly and oscillate water molecules in the organism, which causes friction and generates intense heat. Since a large amount of water is contained in skin, heating based on this mechanism makes the skin smoother and resilient.

Although the Alma Wave can heat the skin deeply into its depth, it doesn't depend on any conditions. That's why, it can be performed well even by staffs who have not experienced the operation so much.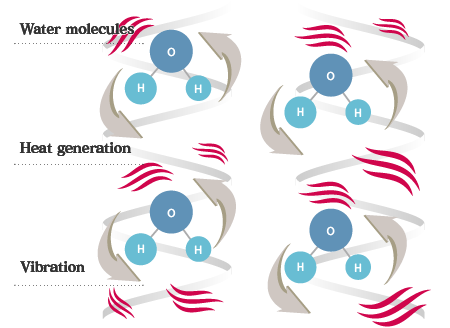 Stronger effect onto the targeted area!
Drainage effect

Some hand-piece are equipped with detachable rotating rings in order to soften and relax the target area so that the effect of RF can be more enhanced. Thanks to the preparation for face and body respectively, there are many areas that the treatment can be available.

Phase Shift Function

The phase-shift function allows the user to adjust the heating depth in 3 stages so that the target layer inside skin can be intensively heated. Consequently, you can control the operational depth flexibly and precisely along the target in your body and your body shape.
More comfortably and more safely
Built-in thermometer module

A thermometer is built in the most versatile hand-piece in order to measure temperature of skin, so that you can quickly check the temperature during the treatment and realize more safe and effective care.

Contact cooling

All RF (radio frequency) hand-piece is equipped with a cooling system respectively in order to prevent sudden rise of the temperature on skin surface during the treatment and realize more safe and comfortable care. In addition, thanks to the mechanism that the heat is generated inside the skin, the heated area and cooled area do not overlap so that the significant effect can be realized even if the irradiation and cooling are carried out simultaneously from the same irradiation port.

Impedance matching
and phase matching technologies

The energy loss on skin surface is reduced by the impedance matching so that the energy can be propagated to the target area efficiently. In addition, the machine is designed to generate the heat maximally in the deepest part of the skin so that risk of the spark can be prevented.

Safety

The treatment by Accent Prime can be available for all skin types (Fizpartrick I-VI). The machine can be also used for caring decollete areas, such as face and neck.

Combined technologies

Combination of various technologies to enrich the options of the treatment can save the time and frequency of the usage and make you expect sustainment of the effect.

No downtime

Neither swelling nor scarring remains after the treatment and no need to use anesthesia.
List of supported modules
module
Accent Prime
Accent Ultra V
Accent XLi
Guided wave

UltraSpeed

◯
×
×

Micro Speed

◯
×
×
module
Accent Prime
Accent Ultra V
Accent XLi
Fractional RF

Tune Face

◯
△
△

Tune Periorbital

◯
△
△
| module | Accent Prime | Accent Ultra V | Accent XLi |
| --- | --- | --- | --- |
| UniBody | ◯ | ◯ | ◯ |
| UniFace | ◯ | ◯ | ◯ |
| UniLarge | ◯ | ◯ | ◯ |
| bipolar | ◯ | ◯ | ◯ |
Spec
Accent Prime
module
ultrasonic wave module, RFmodule(40.68MHz)
System control
100VAC±10%, 6.3A, 50/60 Hz, Single-phase
Size (w x d x h)
46cm×47cm×135cm
weight
60kg
Accent Ultra V
module
ultrasonic wave module, RFmodule(40.68MHz)
System control
100VAC±10%, 6.3A, 50/60 Hz, Single-phase
Size (w x d x h)
58cm×52cm×135cm
weight
50kg
Accent XLi
module
RF module(40.68MHz)
System control
100VAC±10%, 6.3A, 50/60 Hz, Single-phase
Size (w x d x h)
54cm×44cm×97cm
weight
50kg
Recognized from the experts around the world.
Please contact us
for inquiries and introduction of Alma Lasers products.
CONTACT US